Karpenissi is located at an altitude of 960m and it is built on the slopes of the historical Velouchi. It is one of most tourist places of Greece , mainly in winter tourism.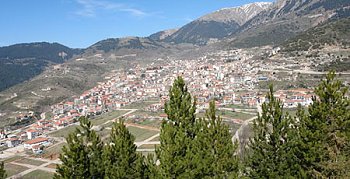 It is a lovely, picturesque town which is surrounded to wooded mountain rocks and combines historical memories with the reality of a developing city at the central western Greece . The Technical Education Institution of forestry, the lycees, the high school and the primary schools, the conference center, the swimming-pool, the contemporary Athletic Center and other sections of activities at this city shows its intense development.
The gorges, the rivers, the mountains attract visitors fond of climbing, skiing, rafting and of other activities for all seasons.
Besides the city, there are a great number of areas which are located very close to it and can attract the visitor's interest (historical facts , cultural and tourist value).
The historical village of Koryschades with its historical School in which was taken place the First National Assembly of free Greece in 1944, the Paleochristianic church of Agios Leonidis with the amazing mosaics at Klafsi village, the picturesque villages Megalo Chorio and Mikro Chorio, the Monastery of Proussos which combines the wonderful wild landscape with the spiritual and religious search, the Monastery of Tatarna with the wonderful museum and many Byzantine churches and chapels scattered in Evritania prefecture, show the endless historic continuity through the centuries.